For months they've been sold out in most sizes and colors, and on most sites they're backordered for another 1-3 months. Well guess what, Free People has them! For some odd reason they have them listed as the
Ophelia
platform boot.
Found this the other day while looking around online, and ordered my pair the second my free shipping link came in the welcome e-mail. To get free shipping, look to the bottom left of
the main page
- submit your e-mail address where it says "new friends receive free shipping." It takes 24-48 hours for the link to arrive. Click it and shipping is automatically deducted at checkout.
I thought about getting the basic
black calf leather
that fashion bloggers seem to love so much (and for good reason), but I just couldn't resist the color and cool scratched metal-looking heel of the taupe suede ones.
Strange how different they look on different sites. On Free People they look distressed/faded like my dad's worn in work boots but
on Solestruck they don't
, so I'm not sure what to expect. Either way the heel looks sweet and I imagine this boot (no matter how distressed) working with an enormous variety of outfits.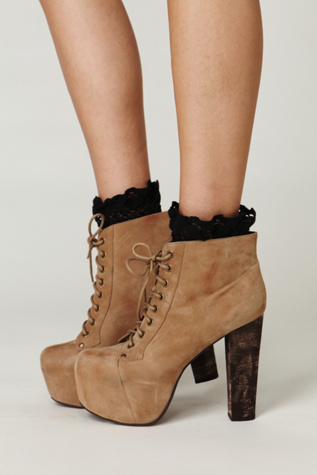 Image via Free People.
Jeffrey Campbell
Lita
(aka
Ophelia
) platform boots, $158 at
Free People
(also available in black, burgundy, and grey) or $159.95 (+ free shipping all the time) at
Solestruck
(available in a ton of color/material variations but sold out in most).
Wondering what size to get? My biggest help was asking Sandra of
5 inch and up
. She is always in tall shoes so she would know, owns a few pairs of Jeffrey Campbells so knows how their sizing works, and is super approachable. It's just better to ask someone who is serious about shoes. The reviews can get annoying as way too many of them only talk about how much attention and compliments they got. Her advice was to go a half size up, which is what I was planning on doing and ended up doing (in case I ever want to wear these with socks).