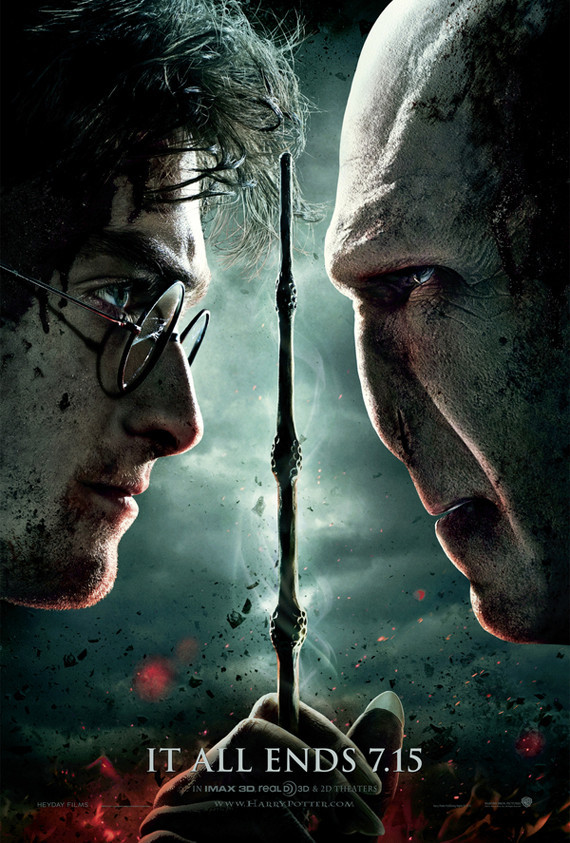 Image via Huffington Post.
This has nothing to do with style or shopping, but I don't care.. this movie was SO F'ING GOOD. Yates did an amazing job following the book and even made a few cool changes... and those kids really stepped up their acting game. Actually, everyone did. I'd seriously be willing to see it a second (maybe even third) time in theatres, that's how much I loved it.
The movies start getting better from the third one. HPs 1 and 2 sucked. HP3 was ok, a lot better directed and filmed but was so different from the book it's frustrating. HP4 and 5 were good... 6 was so beautifully shot, awesome cinematography + Tom Felton did a fantastic job. 7 part 1 was very good. I was very satisfied at how well they followed the book, the only thing I hated about it being Dobby.. then 7 part 2 was AMAZING. A perfect ending to the movie series. Can't wait till Thanksgiving-Christmas, which is when I'm predicting the dvd will be released. They'll probably have an awesome box set for all 7 years, which I would consider getting even though I already have 3-7pt1.
Other links:
-
Rotten Tomatoes
Update
: OMG YES!!!
My man
finally finished his Harry Potter Poster. Awesome, isn't it?! He worked on it all week, so that it would be done by opening day. He just uploaded it to
his Imagekind
, which means you can buy a poster print of it if you desire.